The Biological Imaging Facility is a core microscope imaging lab that specializes in Widefield, Laser scanning confocal, Spinning Disk confocal, and Super-resolution epifluorescence microscopy (SIM, PALM, StORM, TIRF).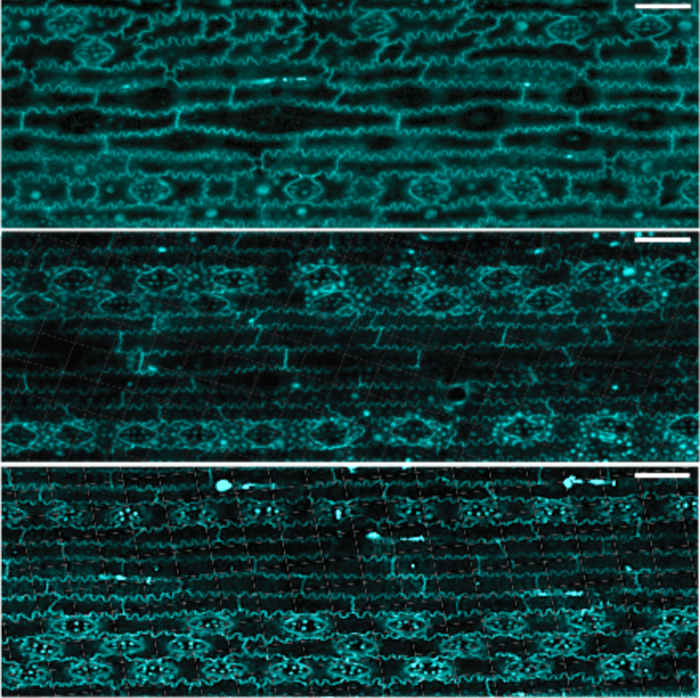 CRISPR/Cas9 mediated gene-edited rice lines exhibit varied stomatal density. Rice lines with mutated positive regulators of stomatal development exhibit reduced stomatal density. Knockouts of STOMAGEN, a strong positive regulator, resulted in dramatic reductions of stomatal density (top). Whereas, knockouts of EPFL10, a weaker relative positive regulator of stomatal density, resulted in moderate reductions of stomatal density (middle), compared to wild-type (bottom). Images collected using the Zeiss LSM 710 and processed using Bitplane's Imaris in the Biological Imaging Facility. Scale bar is 30 uM. 
Nicholas Karavolias of the Staskawicz Lab
The College of Natural Resource's Biological Imaging Facility functions as an instructional and research laboratory for all aspects of modern light microscopy, including confocal and super-resolution microscopy, image processing and analysis, and most microscopical techniques for developmental and cell biology. Computer image processing and analysis is taught on an individual basis. Microscopy is taught on two levels:
In addition, the Facility offers a one-week workshop in Plant & Animal Microtechnique designed to train the student in modern and classical methods in making microscope slide preparations.
There are full time staff members who provide training in the correct use of the advanced microscopes in the BIF. We also provide training and consultation in advanced techniques of microscope imaging, image processing and analysis; including deconvolution and particle analysis of 3D image datasets.
BIF Training and Use Policy
Please consult this Campus site to see what is required before coming to Campus and to the BIF.


If you wish to be trained, please complete this Google Form, then contact Denise Schichnes. Once you have completed this training form and are trained, you will be authorized to reserve instrument time and enter the BIF.


If you are already trained feel free to reserve instrument time yourself. Contact us for the Calendar signup credentials.


There are four core laboratories on campus that offer expertise, instruction, and instrumentation in microscopy for research.